All About Malaysian Visa – Application, Process, and Validity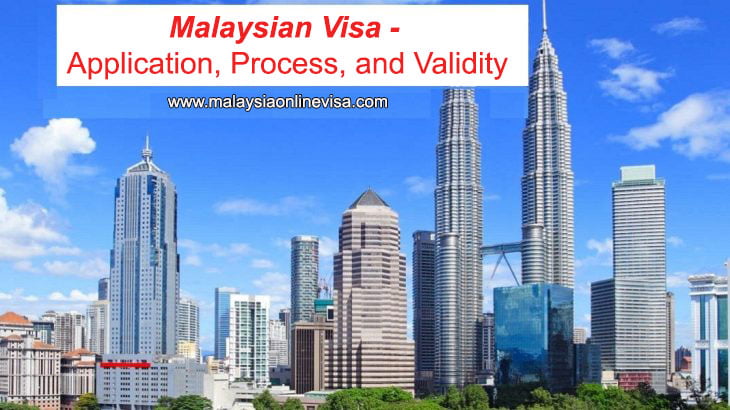 If you visit Malaysia, let us tell you that visa holders can stay in Malaysia for only 30 days. This eVisa application can be used only once and can't extend your visa once you go to Malaysia.
Documents Required for Malaysia Visa 
Here is the list of documents which is required for the Malaysia eVisa is given below:
filling out the online application form

scan and upload some of the required documents

Birth certificate if minor

recent passport-size photograph

Passport front page.

Flight tickets (confirmed tickets only)

Proof of sufficient funds during your stay

Proof of residence.

Applicants must show these documents at the Malaysian entry point upon arrival in Malaysia

return flight ticket

Sufficient funds for your expenses during your stay in Malaysia
Online Application Process for Malaysian Visa
Malaysia is one of the countries that provide electronic visa (eVisa) facilities to eligible Indian passport holders. Let us tell you that Malaysia eVisa validity for three months and allows travelers to stay here for 30 days. All eVisa applicants must have a passport, travel, and other required information to complete the online form. Once the application form is completed and submitted, scanned documents are sent to our website, and applicants must pay all amounts for the required visa fee application process. You will receive eVisa via email once your application is processed and approved.
Applicants can apply for an eVisa using our website. Anyone who wants to apply for a Malaysian eVisa must first open malaysiaonlinevisa.com. If you are applying for this eVisa for the first time, we will help you.
Offline Application Process for Malaysian Visa
People who want to apply for a Malaysia visa offline must complete a application form and submit it along with other legal documents to the Malaysia Embassy/Consulate/High Commission. We will also help you to get your visa formality done in an offline manner as well.
The applicant must also attach a passport-size photograph and follow all the guidelines while filling out the application form. Your passport must have blank pages and valid for at least six months to be allowed a visa. You must pay a fee for a visa based on the category and provide the required documents. Although there is no facility for a Malaysia Visa on Arrival to go directly from India and get a visa there, if an Indian comes to Malaysia after Thailand or Indonesia, he can take advantage.
Malaysian e-Visa Photo Requirements
Passport photo requirements for Malaysia eVisa are as follows:
white background

It can't be more than six months

It must be taken in natural colors

There shouldn't be a smile

The eyes must be obvious
Include an approved passport photo with your eVisa application.
An important part when preparing your file is a passport photo, which will be accepted by the administration in Malaysia and will not delay the process of obtaining an e-Visa. With the help of our website, you can create 100% valid passport photos from the comfort of your home as we use dual compliance controls (artificial intelligence + real human controls).
Create your perfect photo with unlimited tracks! After our control, your digital photos will be sent to your email address and, if you want, printed on professionally approved paper to your home.
What eVisa options are available for Malaysia?
There are several Malaysian e-Visa options, as shown below:
Malaysia Tourist e-Visa:

This is a single-entry visa to Malaysia and only valid for a maximum stay of 30 days. Malaysian visas can only be used for tourism purposes. Nationals of the following countries can apply for this visa: China, Myanmar, Sri Lanka, Nepal, Bangladesh, Pakistan, Bhutan, Serbia, and Montenegro.

eVisa for Citizens of India:

This visa is valid for multiple and single trips to Malaysia. The permitted stay is up to 30 days and is for tourist purposes.

Malaysian eVisa for Students:

The visa is valid for up to 30 days for those wishing to visit Malaysia to study. Upon arrival in Malaysia, visa applicants must apply for a long-term passport. Nationals of the following countries are eligible for this visa: China, India, Myanmar, Sri Lanka, Nepal, Bangladesh, Pakistan, Bhutan, Serbia, and Montenegro.

Malaysian eVisa for Expatriates:

This work visa is valid for a maximum stay of 30 days. Upon entry, foreigners must apply for a long-term passport. Eligible nationalities are China, India, Myanmar, Sri Lanka, Nepal, Bangladesh, Pakistan, Bhutan, Serbia, and Montenegro.

 
Is this a single or multiple-entry visa for Malaysia?
Malaysian single-entry and multiple-entry visas are also available. You must pay an additional fee for the Malaysian permit, depending on the entry method. A multiple-entry visa to Malaysia allows you to enter and exit multiple times.
How long is the processing time for a Malaysian eVisa?
Malaysian visa processing time is only 2-3 working days. The maximum processing time for Malaysian visas can be 5-6 days. If the online Malaysia visa application form is filled out correctly and you have the required Malaysian visa documents, you can get them very quickly. Based on our experience, we can ensure that there will be no rejection of Malaysian visas.
Do Indians need a visa first before traveling to Malaysia?
Yes, But the procedure for a "Malaysian Tourist Visa for Indian Citizens" is relatively easy compared to other Western countries. Also, there are two different ways to get a Malaysia tourist visa online for Indians, and we will cover them in detail for you.
Note: There is a message saying that you do not need a visa to enter Malaysia if you are a citizen of India or China. You don't need a visa, but you will still need an eNTRI before flying to Malaysia.
Malaysia Visa on Arrival for Citizens of India

You also have the option of availing of a Malaysia-on-arrival visa for Indians. However, note that this only applies if you are flying from Thailand or Singapore. You need a valid visa for one of these countries and must have confirmed round-trip airfare to India.