Malaysia Tourist Places Where You Won't Stop Yourself from Visiting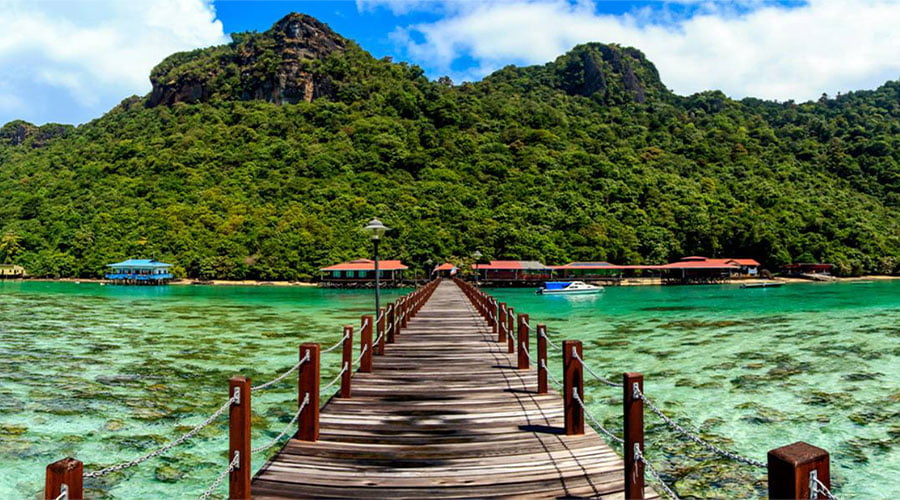 Malaysia is one such country in South East Asia, which attracts the attention of tourists. This is a country where many festivals go on for 12 months of the year. The energy and enthusiasm of the people of Malaysia is the lifeblood of the festivities that take place there, which invite tourists to their country. In this article, we will tell you about the tourist places in Malaysia.
In a way, nature can be felt closely in Malaysia. Cultural, geographical, and biodiversity can be seen and felt in Malaysia. The word 'Malaya' in Sanskrit means 'land of the mountains.
This country is better according to Malaysia's tourist destination because here you will also get to see ordinary life and many shining cities will also be seen. This country is full of diversity, and life seems to be beating in its different colors.
Malaysia Tourist Places – Geographic Location
Malaysia is divided into 2 parts. East and West Malaysia, there are 13 states and 3 federal territories in this entire country. West Malaysia i.e., the Peninsula of Malaysia has 11 states and in East Malaysia which is also called Malaysian Borneo, 2 states are located there. This beautiful country got the name 'Malaysia' in the year 1963.
Malaysia's untouched tourist places
Perhentian, Terengganu – Perhentian, a small archipelago located in the South China Sea off the coast of Terengganu, is one of the most beautiful places to visit in Malaysia. The islands surrounded by the main corals include the aptly named Besar and Cecil or Big and Small. White sand stretches around almost populated areas with crystal clear shallow water laps against the shore.
Favorite activities, in addition to relaxing in this little-traveled tropical paradise, include scuba diving, snorkeling, and canoeing. Those planning a trip should avoid the area during the east monsoon between March and October when most hotels and guesthouses are closed.
Alor Setar, Kedah – Most of the tourists who visit Kedah State spend their time in Langkawi. But about 55 kilometers (34 mi) to the southeast of the popular island is a charming and unexplored town called Alor Setar. The central square of the Alor Setar houses the complex Zahir Mosque, the Big Clock Building, the Royal Hall, and the Sultan Museum, with a fountain.
A little further, tourists can visit the 218-meter (715 ft) and 250-million-year-old Gunung Keriang Limestone Hill. Near Kuala Kedah and walk through the ruins of a 17th-century Malay fort, the oldest in northern Malaysia.
Cameron Highlands – The Cameroon Highlands is a highland located approximately 20 kilometers east of Ipoh, 5,000 kilometers above sea level. The Cameroon Highlands is home to many tea plantations and is known as the largest tea-producing region. Tringkap, Brinchang, and Tanah Rat are mainly the center of attraction in Cameroon Highlands. You can also see them by walking on foot. Apart from this, you can sit and relax completely while drinking tea in many places.
National Park – This is a national park that is 130 million years old. Taman Negara Park is 100 km long and has to be reached via Rope Walkway. Here you can see the life and wild fauna of indigenous tribes. Taman is home to many great Argus and rare peacock, and pheasant-like birds including the Negara, Malayan Tiger, Crab Eating Macaque, and Indian Elephant.
Planning An Inexpensive Family Holiday In Ipoh And Some Parts Of Malaysia
Taking some time off with your family is important. Spending quality time with your loved ones at a location away from your daily routine can definitely bring you closer together. Many people are under the impression that taking the whole troop on a vacation is expensive. However, that does not have to be the case. For example, if you are planning a family holiday in Ipoh or any other part of Malaysia, you can do so without busting your budget. After all, you would not want to start off your vacation with any financial headaches.
A holiday in Ipoh does not have to cause a major dent in your wallet. There are many ways for you to go within your budget and still be able to enjoy your vacation. One way is to stay at an affordable tourist accommodation. You may want to bear in mind that when you're on a holiday with your family, a hotel will most probably be just a place for you to sleep and shower.
You're going to spend a lot of time out of your hotel room exploring the attractions of Ipoh like the Gua Tempurung, Kek Lok Tong, and Sam Poh Tong. So, it probably does not make sense for you to spend so much money on accommodation when you are not even going to be in the room much.
In order to be able to get the best room rate for your holiday in Malaysia, it is a good idea for you to book your room as early as you can. Budget hotels usually offer rates that are much cheaper if the patrons make their reservations months in advance. You can definitely save more than just a few dollars if you do so.
Affordable tourist accommodations usually have websites where you can evaluate and compare their rates according to your planned traveling time. Keep in mind that if you are going for a vacation during a peak holiday the rates and charges are probably going to be slightly higher than that of an off-peak period.
One of the ways to keep your family holiday in Kuala Lumpur or any other part of Malaysia is to eat cheaply. The good thing about Malaysia is that you can always find good quality food at low prices. There is an abundance of local hawkers and food stalls selling delicious local cuisines that will tickle your taste buds.
You can get a packet of nasi lemak (rice cooked in coconut milk) along with a hard-boiled egg and some condiments for breakfast for less than USD1. It will still keep your stomach full until lunchtime. If you still prefer to eat at air-conditioned food outlets, it is probably a wise move for you to check for discount coupons and offers prior to your planned vacation time.
Vacationing in a country like Malaysia is already relatively cheap compared to other popular tourist destinations. Therefore, if you really plan your budget well and pay attention to every little aspect of your trip, you may be able to make your holiday in the country even cheaper. Of course, this does not necessarily mean that you have to compromise on quality.
You can still be able to have a wonderful and memorable vacation in Malaysia. You just don't have to break the bank in order to do it. After all, if you have to worry about spending too much money, it would not be much of a vacation now, would it?
Malaysia Tourist Places – The Hottest And Happening Country in Asia
People want to explore the world. They have started visiting places across borders. This is the reason why international tourism is at a boom.  One of the finest countries to visit is Malaysia. As it is said Malaysia, is truly Asia, you will get a feel of entire Asia while visiting this place. Recently it has become one of the favorite places for vacation. The country offers excellent infrastructure, a lot of natural beauty, and diversity. The food truly reflects the culture of Asia. Malaysia has a lot of adventure to offer. Some of the tempting destinations in Malaysia are as follows:
Kuala Lumpur: The big city influences Chinese, Malay, and Indians. A big part of Kuala Lumpur's allure is its cultural diversity. Some of the places to visit in the city are Petronas Towers, the Perdana Botanical Garden, and the Menara KL Tower.
Penang: It is the colonial city of Georgetown. The city was made a UNESCO World Heritage Site as the place is very beautiful and has a lot of museums, historic homes, a seaside fort and also street food.
The Perhentian Islands: This place is heaven for people who love to spend time enjoying the blue water and skip some of the partying. The best time to visit the island is in July.
Malaysian Borneo: This place is a natural beauty. The rainforests and abundant wildlife are truly a treat to the eyes. It brings you closer to nature and gives time to spend in peace and sanity. Visiting this place is also cheap.
Malacca: It is a cultural, colonial site. A must-visit place for people who like to visit historic monuments. This is also a UNESCO World Heritage Site.
Other places are Taman Negara, Cameron Highlands, Tioman Island, Langkawi, etc.

Visiting the place is very easy for Indians. There are three kinds of visas offered. One of the most famous ones is My Second Home, which allows migrants to live in Malaysia for up to 10 years. If a person wants to study in Malaysia, a student visa is available for them as well. Though the country is famous for its tourism, it is also a preferred place by many people to settle down.
Documents Required
Passport: The first and foremost thing required is the passport. Without it, you cannot travel to any country. Before completing the form, make sure that your current passport isn't expiring for at least the next six months. Additionally, it should have one blank page for the stamp.
During filling up the form, you will be asked to enter the arrival date as well as the departure date. This is mandatory.
A scanned passport-size photograph should also be kept.
Payment: One should have a valid means of online payment. Be its a debit card, credit card, or Paypal.
Email address: The tourist will be requiring a valid email address because the application is scrutinized and accepted, and the document is sent via mail itself. Though it is advised to take a hard copy of it too while traveling.
So if you are willing to travel to Malaysia, apply for the visa and you are all set to go. Visiting this place is affordable and in no time you can reach Malaysia from India.