Thrilling Experiences in Southern Malaysia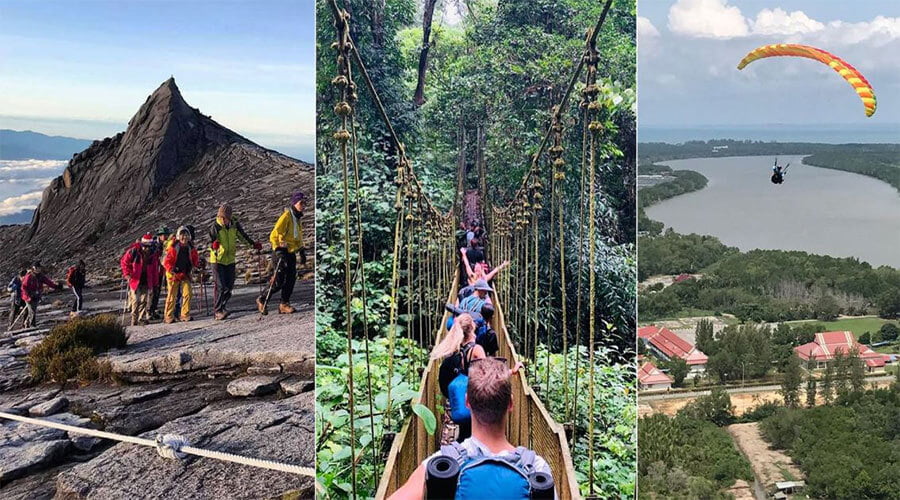 Best Thrilling Experiences and Excellent Historical Places in Southern Malaysia 
Southern region-full of attractions such as the iconic Porta de Santiago in Melaka city and the popular seaside resort of Port Dickson as well as the offshore islands and superb golf courses of Johor. The amazing land is full of fascinating history and breathtaking wonders beckon.
The wonderful tour started with the sun-kissed and fringed by swaying coconut trees and casuarinas. I and a few of my friends were very much excited when we went to the Blue Lagoon and the Teluk Kemang beaches, both beaches were so beautiful to look at that you can't imagine, we enjoyed thrilling sports activities like parasailing, canoeing, and yachting, which were the first-time experience in our life and that's why we were doing all the activities with full energy and excitement.
We were six and we decided to go for a speed boat ride altogether. I miss that day when we were sighting and enjoying the ride. After the sports activity, it was time for enjoying a lovely meal of seafood. We were there till evening and it was nice to watch the sunset against the straits of Malacca.
Again, the next morning our guide took us to the Royal Museum at Seri Menanti, Lukut museum-port Dickson, where we found royal silver and brassware, old weapons, handicrafts, artifacts, traditional costumes, and photographs. After that, we got time to visit the fruit farms, animals, and the nature park of Melaka. We are really lucky that we got a chance to enjoy the cultural dance at a function which was in the evening.
We love to have seafood and we were really happy of getting different varieties of dishes. The grilled fish is wrapped in banana leaf with tamarind sauce. It was very attractive to look at and tasty to have. We were not so far with the attraction of ancient rain forests, pristine island world-renowned gulf courses, historical buildings and impressive architecture which all are in Johor. We visited the Endau-Rompin national park, Pasir Gudang kite museum, Danga Bay, Sungai Lebam fireflies, Zenxin organic park, and UK farm agro resort.
Nasuha herbs and spices paradise, zenxin organic park, and the Sibu group of Islands which has given us an awesome feeling. You don't forget to taste the mouth-watering spread of delicacies such as laksa johor, nasi biryani gam, lontong, and mee Bandung. In Johar, we have again got an opportunity to enjoy a lot of entertaining and recreational activities and events other than sightseeing.
As per the transportation system, you will not face any problems as the connectivity is very smooth from one corner to another corner as per airways, railways, and roadways. Even you will easily get various local transport like taxis, rental cars, and buses for traveling short distances. We came to know from the local guide that Johor is the best place for shopping all over the country.
You will be surprised that we didn't wait a while we just rushed to the various shopping complexes, duty-free outlets, handicrafts stores, hypermarkets, bazaars, and night markets. We were confused that which one to select and which one to leave, each and every product was amazing with the best design, starting from the fashion accessories, and electrical appliances to ceramics and handicrafts. The southern region is really awesome with its vibrant culture-historical relics, pristine islands and beaches, as well as verdant rain forests, which cater to all visitors.
7 Must-Try Thrilling Adventures in Southern Malaysia: From Whitewater Rafting to Skydiving
Southern Malaysia is known for its diverse natural beauty and outdoor activities. Here are some thrilling experiences you can try in the region:
Whitewater Rafting: Navigate through the rapids of Sungai Selangor and Sungai Kampar for an adrenaline rush.

Rock Climbing: Test your skills at one of the popular climbing spots such as Batu Caves, Bukit Takun, or Bukit Timah.

Cave Exploration: Discover the underground wonders of the Gua Tempurung and Gua Damai caves.

Zipline Adventure: Soar through the jungle canopy in the Taman Negara National Park.

Scuba Diving: Explore the underwater world of Tioman Island, Sipadan Island, or Pulau Redang and encounter a variety of marine life.

Jungle Trekking: Hike through the dense jungles of Taman Negara National Park and discover its wildlife.

Skydiving: Take a leap of faith over the picturesque landscapes of Johor Bahru and feel the rush of wind as you free fall.
These are just a few of the many thrilling experiences you can enjoy in Southern Malaysia.
Excellent Historical Places in Southern Malaysia
Bintulu is a major industrial town with one of the world's biggest single-site liquefied petroleum and gas production facilities in East Malaysia. The Similajau National Park is the number one tourist attraction here. This national park is a protected area and therefore, a permit is required from the park entrance before entering.
Besides the national park is Taman Tumbina Bintulu, an integration of a mini zoo and botanical garden. Taman Tumbina is also attractive because of its location as it is in the central location of Bintulu. The walk-in hornbill aviary is the main highlight and is home to some species of exotic flora and fauna.
When we go for a holiday, we will need to look for a suitable and comfortable place to stay. Tune Hotel, which is in the central location in Bintulu, is one of the best options when searching for the right hotel. It is located at Assyakirin Commerce Square, nearby Medan Jaya, and Sing Kwong Supermarket.
Guests can also sign up as online members on their website. From time to time, special rates for online bookings are available. Therefore, make sure to keep a tab on the latest news and do your bookings early to avoid missing out on any good deals.
Most hotels in Malaysia are affordable and provide excellent facilities too. The capital city, namely Kuala Lumpur is in the central location of Malaysia. There are numerous tourist attractions, namely KLCC, PETRONAS Twin Tower, KL Tower, Chinatown, Genting Highlands, Putrajaya, several theme parks, and so on.
KLCC is a popular commercial area with the PETRONAS Twin Tower, Suria KLCC shopping mall, a park, a 5-star hotel, and prime office blocks. In addition, there is a Tune hotel in downtown Kuala Lumpur. One of KL's hottest nightspots, Heritage Row, is just nearby. The hotel is within easy access, whether by road or rail. Air travelers can take the express train to Kuala Lumpur International Airport (KLIA) and it takes just 28 minutes to reach there.
Besides the many attractions in Peninsular Malaysia, Kuching has its fair share of attractive places to visit as well. The Kuching Waterfront runs parallel to the Sarawak River. It is sandwiched between the Sarawak River and Main Bazaar, a place packed with shops selling souvenirs, food, and arts and crafts.
The central location in Waterfront Kuching is full of charm and enchanting natural beauty. In its wide and long walkways are numerous carts selling local handicrafts, souvenir items, and kiosks selling local food and beverages too. A modern esplanade, the Kuching Waterfront is the main attraction during the evenings.
Many types of accommodation for tourists are available in Kuching. Most choose according to their budget, the venue, and their travel needs, whether for own self or other traveling members. Highly affordable comfortable hotels in a central location in Waterfront Kuching make exploring this town a rewarding experience.
Tune Hotel at Waterfront Kuching is one of them. The idea of chain hotels can be helpful when planning a holiday. Sometimes, a good location of a local budget hotel might cater to your needs more than a five-star hotel. Furthermore, the rooms will be expensive and you might be paying for some extra services that you do not need. In conclusion, it will be good to have this hotel in mind, along with other budget planning ideas, when you travel next time.